The best stock goods businesses – We all know and believe that business is an independent profession, here the profit and loss of the trader is all on his own. He is also the sharer of profit in the business, he is also the sharer of loss.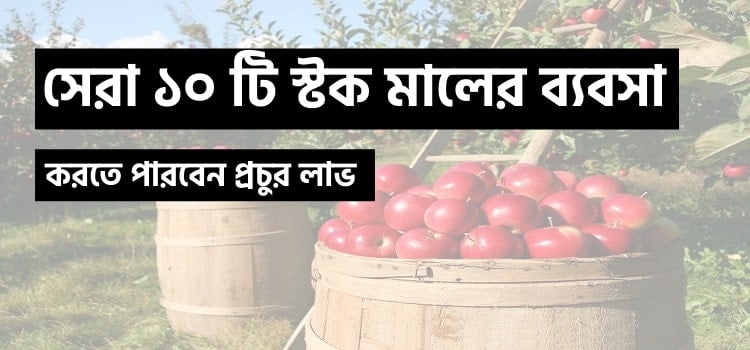 So, today we are going to talk about a type of business where profit-loss risk is equally present,
But if you can make a profit, you are the king.
Even so, owning one is still beyond the reach of the average person.
So, the topic of our today's article is the best 10 stock goods business that JK can easily start।
List of top 10 stock goods businesses
While no one can make a huge profit at the beginning of a business, the way to make a profit in this type of business is much easier.
Let's find out About a number of low-risk and profitable stocks.
1. Paddy:
India is the second largest rice producer in the world, producing about 120 million metric tons of paddy in the financial year 2020-21.
Rice is the main crop in India and is in high demand all over the country. Therefore, the demand for rice among our countrymen as a staple food remains almost throughout the year.
So, if you store cheap paddy sacks at the time of harvest, you can sell your stored rice at a higher price in the market, if the demand for paddy in the market increases, even during the price hike or after the season is over.
However, if you do not sell paddy in time to make more profit, then if the price of paddy falls in the market later, your business is more likely to lose.
And, if you want to get cheap paddy, it is better to buy it directly from the farmers. In this way, you can keep your profit margin much higher.
One thing to keep in mind, however, is that since grains like rice are easily perishable, buy them in large quantities only if there is a suitable collection system, otherwise even if you cannot sell the grains, your business may go into recession.
2. Potatoes:
Potato is a popular vegetable in many states of Bengal and India.
Whether it is Kharif or Rabi crop, year round potato cultivation is not always possible in India. Basically, we see new potatoes sprouting in the winter.
And, potato cultivation usually starts in early January and otherwise in October-November, the rest of the time potato cultivation is not possible in Indian climate.
However, the demand for potatoes among the people of Bengal remains the same throughout the year.
So, understand, if you can store potatoes in sacks during the potato season, then in the off-seasons or in extreme flood or drought conditions, you can easily sell potatoes at a profit of a lot of money.
However, potatoes can rot very quickly, so if you have cold-storage, warehouse or any equivalent arrangement, then stock more potatoes. Otherwise, try to buy in small quantities and sell in a very short time.
And since potato rotting is rare, many traders try to make a profit by selling their stock of potatoes at skyrocketing prices.
Therefore, profits in this stock merchandise business are always higher.
3. Ginger and spices:
Food-loving Bengalis know how important it is to have ginger or spices in cooking. Corona, natural disasters, and various political factors led to a spike in prices of spices, dried fruits, and other food items, but sales did not slow down.
And India is the second country in the world where ginger is cultivated the most.
However, India is also somewhat dependent on other countries for hot spices.
Therefore, ginger, asafoetida, cloves, cardamom, cinnamon, jasmine, saffron, nutmeg, etc. are very profitable products as stock goods.
In the market we see the prices of these spices rising or falling for various reasons.
And since the shelf life of all these products is much longer; So, you can easily keep these in stock. And, if the price goes up in the market, you can sell it at the price of your choice.
However, buying these products is quite expensive compared to other products, but the profit margin is quite good.
4. Wheat:
After rice, wheat is one of the major food grains in India. In the financial year 2020-21, about 426 lakh tons of wheat was cultivated. And after rice, Bengalis eat the most amount of bread and parotai throughout the year.
For this reason, the demand for wheat from the common man remains the same throughout the year. Therefore, choosing wheat for stock goods business is also a very good decision.
In India, wheat is mainly grown in winter. And, it is possible to cultivate wheat only once a year in this country.
So, if you can store enough wheat at the time of cultivation, you can sell wheat at a hefty price even in the off-season throughout the year.
And, the biggest advantage of wheat is that if you can keep this crop properly, it will last for one year.
So in that case your chances of losing are almost nil.
5. Cigarette:
Cigarettes are bad for your health, but not for your pocket at all.
However, this business is but a temporary business, so at once, in less time, to get a lot of money, this pair of stock goods match the burden.
The best time to stockpile cigarettes is in the days before the budget is presented.
Because, every time the budget is passed, it is seen that the price of cigarettes or tobacco products has gone up.
Since this business cannot always be done, your target will be to sell the cigarettes in your collection at a huge profit margin immediately after the budget.
. Nuts:
If you want to trade stock goods, there can be no better product like nuts.
In our country, different types of nuts are cultivated in different parts of North Bengal and South India starting from Maharashtra, Assam, Kashmir.
And the best thing is that if the nuts are collected properly, they can be stored well year after year.
And, the price of these nuts is increasing day by day. And it is possible to cultivate nuts for a very limited time throughout the year.
So, if you can collect these nuts once a year, you will be able to sell them at a good price even after a long time.
And, almond sales are highest during the winter. So at this time you can comfortably get the profit you need.
. Onion:
Onion is a very much in demand vegetable in every Bengali's home just like potato.
During the Corona period, we were the victims of many black markets with onions. And on this occasion, the pockets of many people became hot with the sale of onions. So you understand the importance of onion as stock goods.
However, onions rot very quickly. So, make sure that you have proper storage facilities for onions in your warehouse.
And try here too, so that onions can be bought directly from the farmers. This way you can keep your profit margin higher at the time of sale.
. Mustard:
Mustard is widely cultivated in many parts of Bengal as well as in many states of India. And almost all the states of India from north to south and from east to west have year-round demand for mustard.
However, mustard is more cultivated in Bengal in summer and at the end of winter.
So if you can collect mustard at low prices from farmers during the season and store it, you can make a good profit by selling more or less mustard throughout the year.
Also, the price of mustard goes up and down. And as we know, the demand for mustard oil has increased in India.
For that reason, mustard as a raw material is in demand almost all the year round.
And, if stored in mustard, it stays good with little care year after year. So in terms of care, this product is not too hot.
9. Pulses:
If there is pulses and rice in the house of a Bengali, everyone can eat it. And in the case of vegetable protein, there is no pair of pulses.
Although people cannot eat fish-meat-eggs every day, they try to eat at least pulses and rice.
And that is why the demand for pulses is very high in this country. Therefore, pulses are a profitable commodity in stock business.
In our country, gram, pea, mug, arahar, biuli, lentil and various pulses are cultivated at different times of the year.
In that case, you can buy them at a lower price and store them at the time of harvest.
Then when the season is over, you can sell these pulses at a higher price.
10. Dress:
You see, when the winter is over, you can find wool sweaters at water prices in any market.
Just like that, you will find stylish summer clothes for very little money at the beginning of winter.
So, if you want to trade stock of clothes, you can definitely stock up on winter clothes and summer winter clothes at low prices.
In that case, you can sell winter clothes at a higher price in winter, and when summer comes, you can do the exact opposite.
Also, the same formula applies to socks, shoes, etc.
In conclusion:
The risk of loss in stock goods or stock business is much less than in other types of business.
So, if you are going to start your first business, then the idea of ​​doing business with the stock of this raw material is much more acceptable.
And, the best tip for doing this business is to never buy one product at a time, but buy a small amount of different products instead. So that, even if you do not make a profit from one product, you can easily compensate the rest.
This is ours today Stock goods business idea This is the end of the article.
If you have a clear idea about this business from the article, be sure to let us know in the comments.
>> Related Articles