What is partnership business in Bengali? Features of partnership business and Advantages and disadvantages What are they, we are going to discuss this topic in detail through today's article.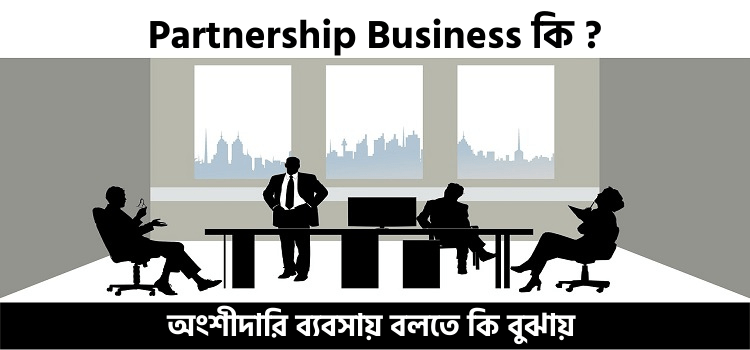 We know that there are many kinds of business. There are many types of business, especially on the basis of ownership.
And, of course, partnership business is one of the most popular businesses in the world.
And this is the subject of our discussion today What does partnership business mean? And, what kind of business are we? Advantages or disadvantages Let's see, we will find out in this article.
In fact, what we know in English is called partnership business, hence in Bengali it is known as partnership business or partnership business.
Let us first know, that What is meant by partnership business.
What is partnership business / Definition of partnership business:
By definition, when two or more people enter into a business contract in the hope of making a profit, we call it a partnership business.
According to the rules made by the business world, a partnership must have a partnership of at least two persons and not more than twenty persons.
Indian Partnership Act 1932 Accordingly this type of ownership is legally recognized.
According to this law, a contractual relationship is formed between those individuals when a number of people together make a profit in a contracted state from a business run by a single person.
And, the business that they run through this agreement is actually this partnership business.
That is, if two or more persons continue to run the business legally by dividing the profits from the business, it will be legally treated as a partnership business.
Let's talk about some of the key features of this business:
Partnership Business Features:
This type of business has several distinct features that distinguish it from a monopoly or jointly owned business.
Those features are –
1. Multiple members:
In this business it is very important to have more than one partner at all times.
Since the first pillar of this business is partnership, in this case at least two people must have a partnership.
2. Number of partners limitation:
This partnership can be formed with a minimum of 2 people and a maximum of 20 people.
If the number of members is more or less than this, it will not be recognized as a partnership at all.
3. The application of the contract is absolutely necessary:
Agreements are the foundation of partnership business. This type of business does not exist without some kind of contract.
There are several types of contracts in this business.
These are – oral, written, both written and basic.
These agreements are registered or unregistered. The written agreement in this business is called deed.
4. Management Responsibilities:
Anyone with an adult, healthy mind can be a partner in this business and although all partners can participate in this type of business independently, the business is run and controlled entirely by one of these partners.
5. Capital Rules:
Since this business depends on the contract. Therefore, if the contract provides for non-capital participation, it is possible to become a business partner without investing capital. Also, according to the agreement, the partners invest their capital at the time of starting the business and during the course of the business.
. Profit-loss sharing:
According to the agreement, the profit-loss ratio of this business is shared equally among all the partners.
In addition, everyone will share the profit or loss according to the amount of profit and loss distribution that is written or stated in the contract.
. Basis of faith:
Mutual trust is essential in a partnership business.
Because of this, every partner has to keep trusting each other.
The success of this type of business, success or failure all depend on this belief.
. Liability:
Profits and losses are more or less shared by everyone, so the liability in the partnership business is also infinite.
Business liability rests with each partner individually or collectively.
For example, if a business has a liability of crores of rupees, and one partner is unable to meet that liability, the rest of the partners have to meet that liability.
9. Registration:
Registration is not mandatory for this business.
However, it is possible to get a number of benefits if you are a registered business.
However, even if the business is registered, the business does not have any legal entity or legal entity.
For that reason, if there is a problem with debt in the partnership business, there is a system to file a complaint or lawsuit directly against the partners.
10. Business Dismissal Rights:
If due to this a situation of dispute and mistrust is created between the partners in this business, then the existence of the business may be abolished.
Advantages of partnership business:
Now the question is, what are the advantages and disadvantages of partnership business? Let's first discuss the benefits of business.
It has often been observed that in a sole proprietorship business, the business often suffers losses due to capital outflows.
So, many entrepreneurs think that if you are new to the field of business, partnership business is a good way.
There are several advantages to a partnership business over a sole proprietorship, including:
1. More capital resources:
The biggest advantage of this business is the ability to raise more capital.
There are always two or more partners who make it easy to raise capital.
2. Ease of construction:
Since this business registration is not mandatory. In that case, a few partners can easily start a business together. Success in partnership is achieved only through proper mediation and trust.
3. Advantages of decision making:
More than one two-headed job. That is, the business is run by more than two people.
Therefore, when making a decision, all the stakeholders are able to give a well thought out opinion, which in most cases helps to make the right and effective decision.
So, in that case, when it comes to making important business decisions, it is quite effective in this business.
4. Management skills:
Different types of people can be involved in this business. Also, each partner may experience different aspects.
Therefore, entrepreneurs in partnership business are able to conduct efficient business.
5. Benefits of getting a loan:
Before lending to a bank or any financial institution, check that the business is able to repay the loan.
From that point of view, a sole proprietorship business depends on only one person and that person can often fail to repay the loan alone, as he has much less access to alternative financial resources.
On the other hand, there can be many partners in a partnership business, so the chances of repaying a loan are much higher.
Therefore, any financial institution gives more priority to partnership business in providing loans.
. Team effort:
Every partner in a partnership business can claim equal rights.
Each partner owns that business and is responsible for running the business.
. Risk sharing:
The chances of personal loss are much lower as the share of loss as well as profit is shared among all the partners.
. Contract flexibility:
In the case of partner business, it is possible to change the contract as required.
The terms of the agreement can be easily changed with the advice of different partners.
Therefore, it is possible to adapt to the situation by changing the business agreement according to the situation.
As a result, it is possible to improve the business as a whole.
Difficulties in partnership business:
Remember, like many businesses, this partnership business has its drawbacks.
Since there is no obligation to register in this business, there are many gaps in this business.
After which various legal complications may arise.
And, partnership business is basically based on trust.
However, this belief can be shaken at any moment and business problems can arise.
So, there are several advantages to a partnership business, they are –
1. Lack of faith:
Lack of trust in most partnership businesses leads to liquidation.
Also, the lack of trust between the partners is strongly felt as the business partners do not have their own legal entities.
2. Delay in decision making:
Since business decisions are made after many partners have expressed their opinions together, it often takes a lot of time and effort to get the consent of all. Which is a lot of damage to business.
3. Lack of privacy:
Twelve or five people have to go through the business of partnership business, so the secrecy of the business is much less here.
4. Temporary partnership:
The attitudes of all partners are never the same.
For this reason, there are often disputes between them over opinions, money laundering and mistrust.
As a result, many partners are forced to leave the business in the middle.
5. Infinite Liability:
The liability of the partners in the partnership business is immense, ranging from their capital to private property.
Because of this, it is often difficult to find partners in this business.
. Ownership cannot be transferred:
Like the stock market, ownership cannot be sold here at will. So, many people do not like to invest in this business.
Our last words:
There are different types of this type of business. However, this type of partnership business is seen in medical professional, consultancy, banking, advocacy and various other sectors.
What is Partnership Business (Partnership business meaning in Bengali) This is the end of our article.
After reading this article, you must let us know in the comments what you think.
Also, if you have any questions or suggestions related to the article, please let us know in the comments.
>> Related Articles